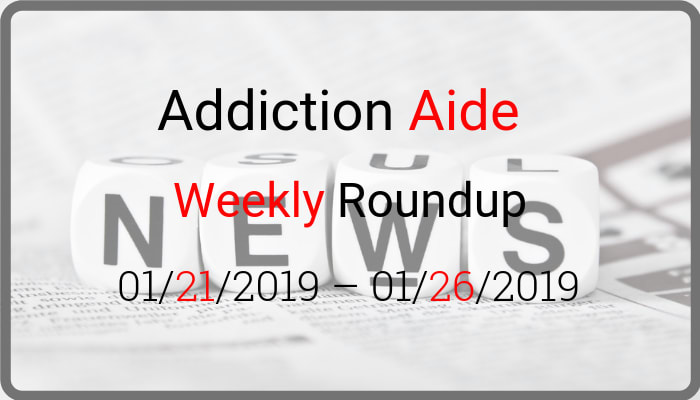 Read most recent news about addiction that happened in this week (01/21/2019 – 01/26/2019)
1. Local substance abuse group using a grant to prevent kids from getting hooked on drugs
More than 4,300 people under the age of 21 die every year because of injuries caused by alcohol. A local group is trying to bring that number down.[WSBT]
2. Cocaine addiction: Could targeting this brain circuit prevent relapse?
Recent revelations about a particular brain circuit could lead to more effective treatment of cocaine addiction, which has a high rate of relapse By Catharine Paddock.[ Medical News Today ]
3. Boise police find heroin, meth in the safe inside storage unit; woman arrested
Boise police officers arrested a woman Wednesday on charges of drug trafficking and possession of a controlled substance after a search of her storage unit yielded both heroin and meth. [ Idaho Statesman ]
4. 3 Drug-Free Ways to Optimize In-the-Moment Happiness
The most significant increase of in-the-moment happiness was observed after the exercise called "Reliving Happy Moments." The second most effective mood booster was an exercise called "Savoring" followed by something called the "Rose, Thorn, Bud" technique by  Christopher Bergland. [ Psychology Today ]
5. Man blames addiction for his crimes
Addiction always triggers the illegal and criminal activities. See the man blames that addiction lead him to do these crimes. [ Brantford the expositor ]
Also, Visit Previous week Addiction Recovery News
Last Update : August 9, 2020
FAQ's
Can you leave the rehabilitation center?
You can leave the rehab any time, no one will compel you to stay at the rehab. However, dedication and continued treatment are required to fight addiction and achieve a sober life.
What are the Stages of Addiction?
There are various stages of addictions. The initial stage is the functioning individual with the addiction. The most common scenario is they have a job and their relationships are intact, but their health is depleting slowly because of their dependence.
What are narcotics and why people get it?
Narcotic analgesics (painkillers) are drugs that can reduce pain, cause numbness and/ or induce a state of unconsciousness. They have the tendency to cause tolerance and addiction