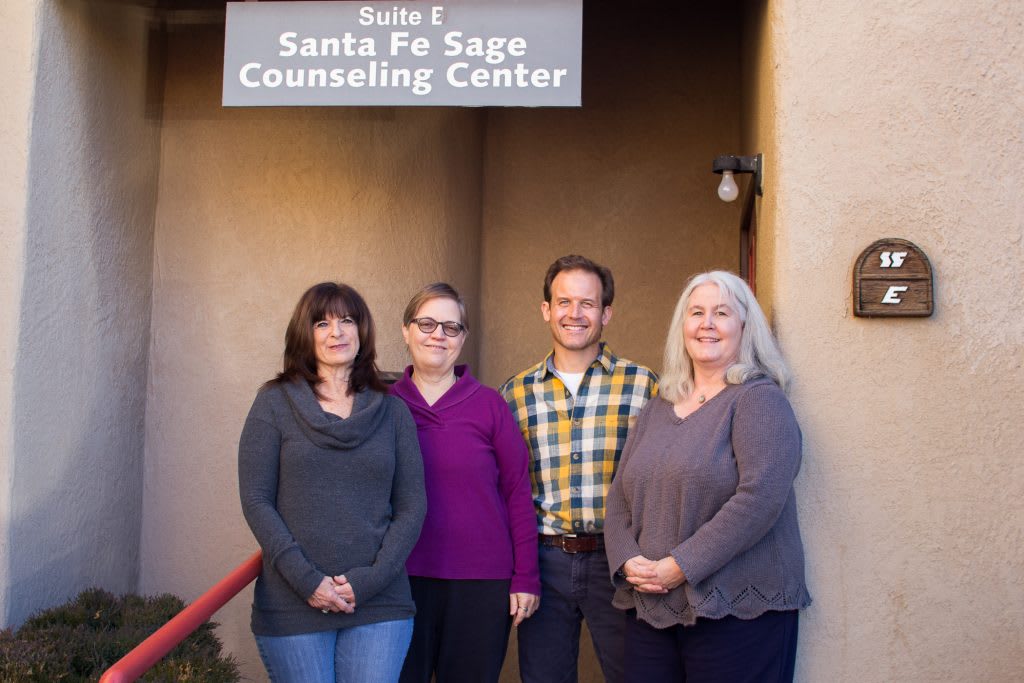 ---
[super_hero_slider slider=8411]
Santa Fe Sage Counseling Center is located in the St. Francis Office Park at 1223E S. St. Francis Dr. Santa Fe, NM 87505 At the end of 2006, each of us nowhere at Santa Fe Sage were therapists running individually in Santa Fe. Though they often consulted with one another, they discovered that uniting as a group would create a supportive environment in which to work and allow them to develop a cohesive team which could give a wider spectrum of services to their clients. Soon thereafter Santa Fe Sage Counseling Center was born, and their office opened in early 2007. They moved to their current location in the St. Francis Office Park on October 1, 2010.
Their vision as therapists is to provide excellent counseling with an emphasis on transpersonal psychology. Their believe that each individual is whole and complete, no matter the presenting issues. Their job, then, is to assist the client in re-discovering innate wholeness.
Specialties
Parenting Counseling and Training
Child and Adolescent Counseling
Grief and Loss Counseling
Substance Abuse Counseling
back to menu ↑
Amenities
Art
Creative expression
Play therapy
Safe environment
back to menu ↑
Therapies
Individual Counseling
Couples Counseling
Trauma Therapy
EMDR
back to menu ↑
Insurance accepted
Presbyterian
Blue Cross Blue Shield
NM Health Connections
United
Molina
back to menu ↑
Payment accepted
Out of pocket
Checks
Cash
Credit cards
Sliding scale fees
back to menu ↑
Feedbacks
My therapist is probably the best one I've ever had. Highly recommended & definitely worth a try. I have been visiting Dawn Perry for almost a year now and the progress is incredible! She helped me through some heavy dark times & helped me heal my PTSD – which I thought was untreatable. Thank you, Dawn! You are the best!
back to menu ↑
FAQ
Therapy can take anywhere from a handful of sessions to several years to complete.  This depends upon the issues to be addressed, nature and complexity underlying your symptoms, as well as your willingness to put into practice the skills and insights gained from therapy.
Psychiatrists are medical doctors who can prescribe medication. Some psychiatrists diagnose, prescribe, and provide medication management while some also provide therapy.
Psychologists have a clinical Ph.D. and are licensed as psychologists. In the State of New Mexico, some psychologists can prescribe psychiatric medication and provide medication management in addition to providing diagnostics. Some psychologists also provide therapy.
Counselors and social workers have at minimum a Master's degree in Counseling or Social Work. They provide diagnoses and therapy. Counselors cannot accept Medicare at this time but many Social Workers are able to accept Medicare.
The therapists at Santa Fe Sage Counseling Center are all Licensed Clinical Mental Health Counselors (LPCCs) in the State of New Mexico.
back to menu ↑
Location
Last Update : November 12, 2018
FAQ's
Can you leave the rehabilitation center?
You can leave the rehab any time, no one will compel you to stay at the rehab. However, dedication and continued treatment are required to fight addiction and achieve a sober life.
What are the Stages of Addiction?
There are various stages of addictions. The initial stage is the functioning individual with the addiction. The most common scenario is they have a job and their relationships are intact, but their health is depleting slowly because of their dependence.
What are narcotics and why people get it?
Narcotic analgesics (painkillers) are drugs that can reduce pain, cause numbness and/ or induce a state of unconsciousness. They have the tendency to cause tolerance and addiction