Introduction
In this fast-paced world, everyone is quite busy with their own schedule and list of tasks, they hardly have time to relax. So there is a huge change for this generation to be more stressed and likely prone to many health issues both physically and mentally.
These conditions may affect and give you severe disruptions in your thought and behavior, which makes you fail to cope with your regular needs and habits. Some of the mental illness problems are schizophrenia, bipolar disorder, depression, trauma, dementia, and anxiety disorders.
If you are concerned about your mental health problems like depression, trauma, grief and seeking therapy programs. You may wonder which healing method will be suitable for you. Some individuals do not feel interested in the therapeutic process like the psychotherapy approach. When you or your spouse find it hard to undergo the normal recovery procedure and looking for some different approach to recover, then you might think about participating in therapies like music. This approach is a type of powerful art therapy programs which makes a person and his family members to express emotional or psychological feelings in an environment of relaxation and comfort them to address various physical issues.
Today in this Blog, We are Going to Discuss in Detail the Below Topic.
How else music therapy is Beneficial?
Improved respiration and regulate your heart rate
Changing patterns of brain activity
Increasing the number of immune-boosting cells
Relaxed muscle pressure
How music therapy helps children to build their self-esteem and feeds their spirit?
Speech and communication
Fine and gross motor skills
Academic
Social skills development
Behavioral
Today, lots of people are interested in using music therapy for treating psychiatric ailments. When you or someone you love is involved in this therapy,  it gives you some relaxation or gives a pleasant feeling by avoiding all distractions from your surroundings. Obviously, you may be facing some spiritual emotional, physical, or psychological issues, this therapy programs can address your needs and desires.
 "Where words fail, music speaks."
           -Hans Christian Anderson
When you hear a piece of music it regains your inner peace and takes you right back to an important moment in your lifetime.  Maybe listening to music brings more confidence, Or, let's do it, a smile on your face. I am sure, listening to music is something many of us do regularly.
Music therapy has the potential of giving pleasure or consolation during a time of your distress or loneliness. This therapeutic process is an amazing opportunity for adolescents and children who are battling mental illnesses.  This approach can also be helpful for people of all ages and abilities.
Listing to music is one of the prevention of mental illness since this healing treatment session may combine numerous activities, such as listening to music, writing songs, or producing music and there is a chance of becoming a music director also.  This therapy includes a certified specialist, research-based discipline clinically using music to achieve your personal goals. If you try or enroll in music therapy the therapist will support you to express your feelings and helps to improve your mood or to strengthen the quality of life if you are grappling with mental illness.
How Else Music Therapy Is Beneficial?
Do you want to learn more regarding music therapy? Come on let us discuss more how music therapy helps you to improve your mental wellness.
From the perspective of society and culture music permeates our social and cultural makes it well-known and easily accessible for people. Thus, a professional music therapist can choose and implement suitable music for the efficient treatment of the mental health concerns which indicates their culture and individual personality. This program reflects your preferences that are more standardized and effective than a traditionally more generic method. This also contributes to making music therapy-based treatment effective and more faster than treatment without music. Additionally, people who experienced this therapy have reported that this treatment is simply more enjoyable.
Music therapy And Sound Healing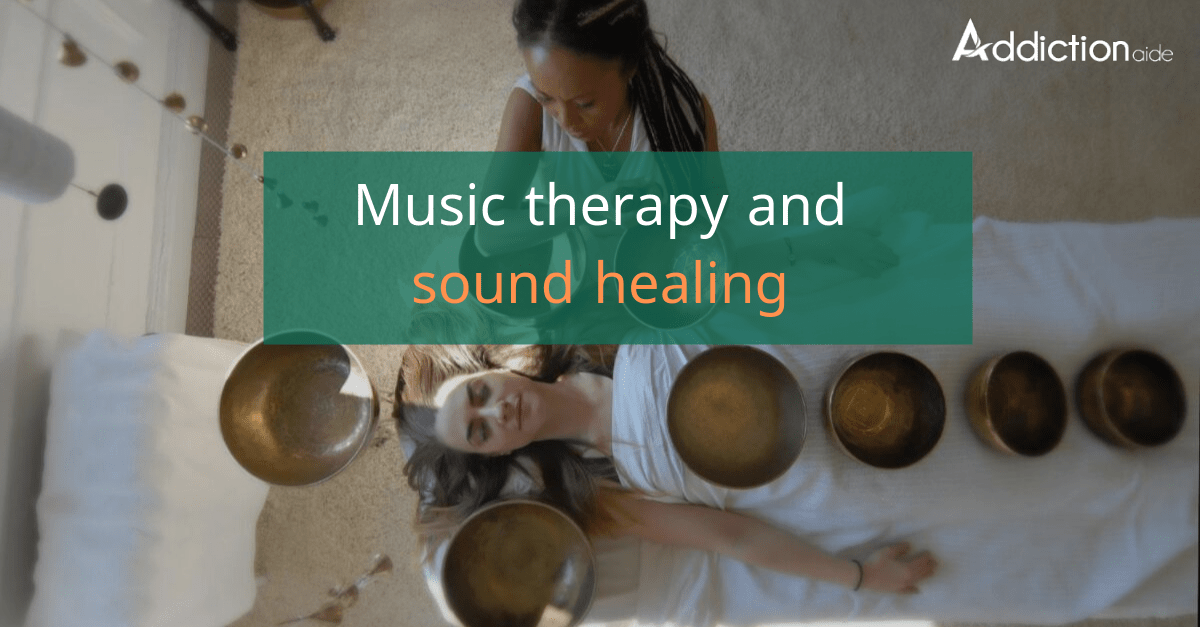 Probably you may listen to numerous songs but you all may have at least one has a favorite music which gives up great thoughts at the core of your heart, makes you fall deeper into the song, some rhythms automatically make you dance and carry you to the feel of the environment that feeling very relaxed and enjoy the moment, free from all your worries and stress.
When you deeply listen, sing or play music,  you will be having a ton of physical transformations that are taking place in your mind and other parts of your system. The song transforms your personality. There are several well-known tools that music therapy and sound healing can enhance your health are:
1. Improved Respiration and Regulate your Heart Rate
In multiple ways, singing a song or blowing into an instrument is uniquely suited as a tool for enhancing your respiratory and breathing wellness.
Music is such an efficient exercise tool because songs with powerful rhythms and beats can help to regulate your heart rate and breathing. Playing a wind instrument can also guide you to control your breathing, strengthens your lungs and respiratory system by matching it with a steady rhythmical beat.
2. Changing Patterns of Brain Activity
According to the research University of Liverpool Institute of Psychology, Health, and Society, 30 minutes of musical training can improve blood flow in your left hemisphere of the brain.
When you or your loved one listen to the music, it includes the hippocampus and lowest parts of the frontal lobe which is memory centers in the brain. Tapping our feet to a musical beat involves your cerebellum located behind the top part of the brain stem. Reading music gets your visual cortex involved.
3. Increasing the Number of Immune-Boosting Cells
According to the research of Scientists, when you listen to uplifting dance music for about 50 minutes, a significant level of Immunoglobulin A (IgA) a type of antibody will be increased. While relaxing music supports you to reduce anxiety.
The antibody which is present at the mucous membrane (lungs, digestive tract, etc.) and benefits you to prevent infections. Music listeners had larger numbers of "natural killer cells" that are a type of immune cell whose function it is to attack malignant cells and infected cells such as bacteria, viruses, or other microbes enter your system and begin to increase.
4. Relaxed muscle pressure
When your body is emphasized, your muscles may feel tense and tight. But, when you listen to pleasant music can it helps to promote relaxation. Music therapy is frequently used with progressive muscle relaxation to lessen your anxiety.
To improve your Progressive Muscle Relaxation, choose soothing music that makes you feel comfortable. Probably you need to pick a song with a mellow, slow rhythm. Selecting music without words can be more helpful to concentrate on your breathing and your breathing. Preferably, choose a class and style of melody which makes you stay relaxed, active and encourages you to focus on your work.
How Music Therapy Helps Children To Build Their Self-Esteem And Feeds Their Spirit?
Hello parents!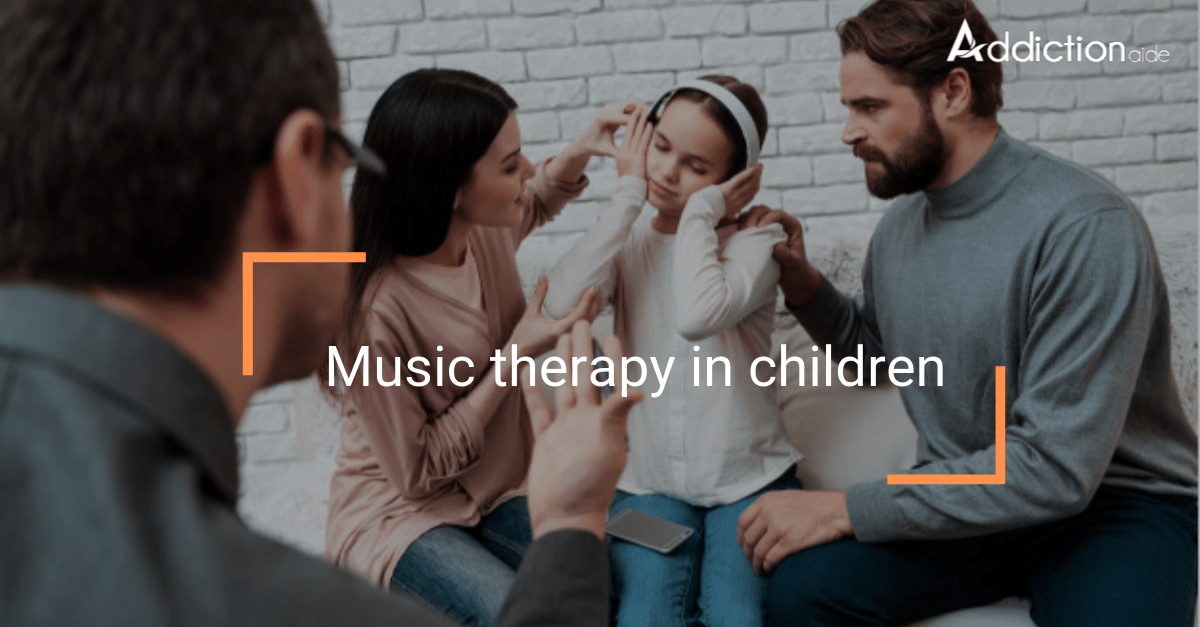 Do you want your child to have special needs? Of course, Children should have special needs apart from basic needs.  Children face many Challenges and Issues for achieving Special Needs, it is especially necessary to support your kids with the form of therapies like music. Music therapy is powerful in supporting kids with special needs to prove themselves and enhance their writing and verbal skills. This therapy can help your kids to meet their special needs where other ways or practices cannot reach, that is one reason why music therapists are specially qualified to perform success-based activities that address developmental abilities.
Here We Have Mentioned 6 Methods Of Music Therapy That Are Practiced To Assist Kid's Special Needs.
1. Speech and communication:
When your child sings custom-written songs, it helps to isolate communication sounds and gives a lot of repetition without continuity.
2. Fine and Gross Motor Skills:
If your kid is using maracas or rumba shaker which is a traditional and adaptive percussive instrument, it increases your child's independent works in smaller like brushing teeth, opening doors, washing hands, zipping zippers and so on.
3. Academic:
When your children listen or sing the academic information into a song. it enhances them to recall vocal emphasis, rhythmic beats, and pitches that are present in normal speaking tones.
4. Social Skills Development:
When your child forms music therapy groups, it helps them to practice greetings, vocalization, turn-taking, initiation, imitation, and eye contact through musical activities.
5. Behavioral:
When your child is involved in creating a song, singing, and writing musical stories, it improves their creativity and healthy emotional expression. When they have Creative expression it boosts their self-esteem while developing insight into emotions and personality.
MHA's suggest that these below-mentioned songs will help mental health concerns to recover from their illness.
"Walk Away" -By Bad Religion
"All I Do Is Win"-By DJ Khaled
"Beautiful U R" -By Deborah Cox
"Fighter" -By Christina Aguilera
"Cherish the Day" -By Sade
You may find numerous effective therapies universally, But finding music therapy in the recovery centers of America is the one which has the most powerful range and proven method of addressing mental health concerns.
"Never give up on someone with mental illness.
When the "I" replaced by "We", illness becomes wellness."
Shannon L. Alder.
Whatever style of rhythm you love, when you realize how music changes you, you will obtain a strong, manageable, affordable tool that music therapy in mental health helps to improve your energy, and make sure to bring spirit to your life!