Beat Your Addiction With Meditation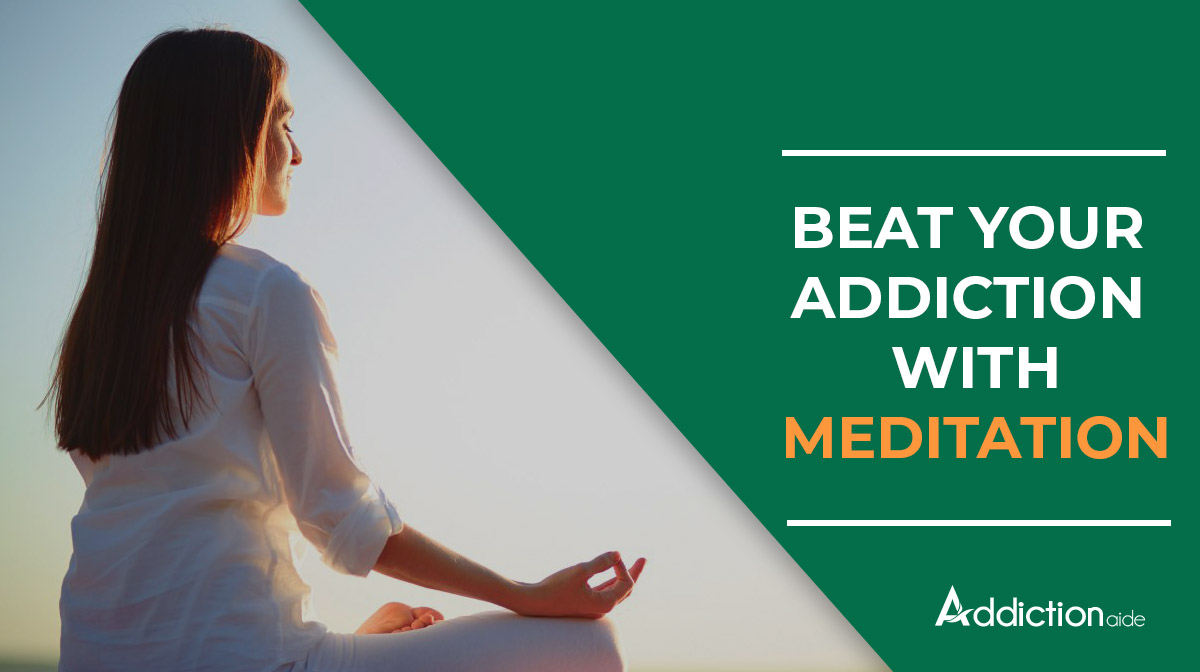 Addiction is considered as the compulsive engagement in the use of a substance or behavior. Millions of people are facing addiction in the day to day life, but what makes it severe is the kind of substance, the individual is addicted to. In today's world, many new and the most threatening addictions that shatter the healthy and happy life are addiction towards alcohol, opioids, pornography, tobacco or some other drug or habit that can take over a life. There are various types of therapy available to overcome the addiction but medication is one of the effective ways. It affects both your family and you may even get some psychological problem too. So try to visit some psychology therapist and talk to them about your problem, your behavioral change when you are in a group or alone with your child. Take some mental reprocessing and mindfulness-based meditation to overcome your issues based on psychotherapy.
Meditation is a kind of exercise that mainly focuses on the connection between mind and body and enhances you to feel more relaxed and stress-free. Simple steps to initiate your meditation process are listed below, when you initially start your process you will face a certain level of difficulties in the initial level, you will become a pro when you start making it as a daily routine.
in this blog, we are going to discuss Beat Your Addiction With Meditation.
Benefits of Meditation in Addiction
Best ways to practice meditation in recovery
1. Find a quiet & distraction-free environment
This will always help you to feel focused and make your mind more concentrated, which helps your inner healing a lot. Try to avoid the places where you will find distracted and choose the place which is very calm and where you can focus your mind and body to be on the same path and you can heal and grow yourself.
2. Make yourself more comfortable with the environment
When you find a quiet place and it might be very lovely in nature or not, make yourself comfortable with that location and start your meditation and make it as your daily routine so you can improvise your efficiency.
3. Focus on your breathing
Try to concentrate more on your breathing, this gives you a lot of relaxation and helps to make yourself very calm and you will definitely have a relaxation phase.
4. Keep your mind open
When you make the meditation as your daily routine, it helps you a lot to become more positive persons, helps you to open your mind and throw all the trash out of your mind and focus on your next goal.
Initially start your meditation with a few minutes a day and later on increase your time duration to longer sessions. It is totally apart from religious belief. Meditation combined with other forms of treatments achieves a growing amount of effectiveness to recover from addiction and prevent yourself from relapse.
Meditation clears the mind, relieves stress and calms the body of the addict.  A recent study in the journal Drug and Alcohol Dependence found that mindfulness meditation helps to improve emotional regulation, and is, therefore, an effective means of addiction prevention and treatment. As the value of meditation towards the path to healing are high, professionals seek meditation as the first step to understand the root desire that drives the individual to abusive habits. People who are struggling with addiction would have been facing emotional issues like loneliness, anxiety, depression, and anger. Meditation provides the strength and builds inner confidence that shows a way to find peace and satisfaction that can replace the habit of addiction. Meditation opens the gate for a permanent solution and attacks the issues from the inside out. Rather than curing just the symptoms of addiction meditation tries to replace the broken heart with inner peace and rectifies the issues in such a way that the symptoms go away.
Benefits of Meditation in Addiction:
Scientists in a study examined the role of the brain in drug addiction. They found the region prefrontal cortex that is a brain happiness center which will be super stimulated during intoxication. Brain happiness center is a region in which meditation gives a natural high. Meditation will help the brain to be happy and maintain it naturally high through the brain happiness center that keeps the need towards alcohol, drug or substance abuse away.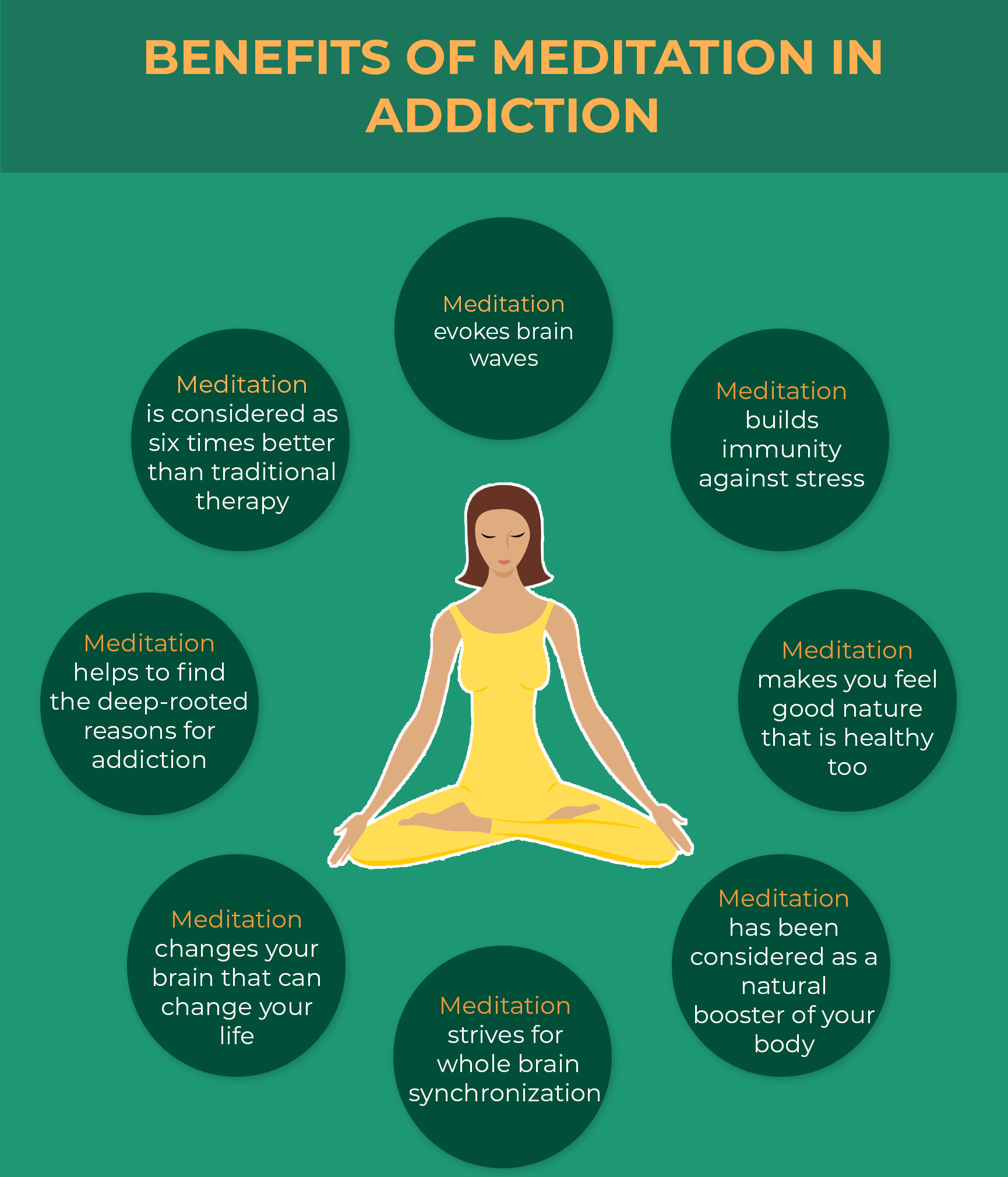 Meditation evokes brain waves
.
In biofeedback types of therapy, the patients were allowed to undergo EEG biofeedback training which tries to put the brainwave into more consciousness state. This expensive biofeedback can be replaced by meditation that provides more alpha and beta brain waves than the therapy when the brain is in the meditative state.
Meditation is considered as six times better than traditional therapy.
In a recent study, patients were given meditation and were asked to fill the questionnaire on day 0 and day 90. The results revealed that the patients who practiced meditation were comparatively less addicted than the patients who are in traditional therapy.    
Meditation builds immunity against stress
.
As a human being, we all have certain tolerance to handle stress but when it exceeds maximum limit it can create anxiety, depression, anger, and insomnia.  So at this phase, people tend to move towards addiction. Meditation transforms your central nervous system and provides strength to your brain to fight against the stress. Meditation also helps to wipe away the anger, depression for an entire lifetime by raising your maximum stress threshold.
Meditation helps to find the deep-rooted reasons for addiction
.
Meditation creates mind awareness of everything. It acts as a conscious thought and gives you the strength to face the disharmonious in life. Meditation helps to bring back everything in harmony.
Meditation makes you feel good nature that is healthy too
.
It replaces the pleasure of injurious chemicals like dopamine that affects the human brain regions like "nucleus accumbens".
Meditation changes your brain that can change your life
.
Deep meditation improvises 9 brain regions that yield betterment in sleep, happiness, learning, memory, stress overcoming potential, etc.
Meditation strives for "whole brain synchronization".
Which is a process of balancing the left and right brain Balancing the right and left side of the brain opens the gate of enormous benefits like creativity, faster learning, and positive emotional health?
Meditation has been considered as a natural booster.
Meditation has been considered as a natural booster of your body's chemical like GABA, Endorphins, serotonin, etc. With the enormous benefits of meditation, you can change your or your loved one's life into a healthy and happy life.
Meditation plays a very significant role in addiction recovery. Many different forms of meditation can help you to make your mind focused and get rid of all the things that distract you or which spoils your inner peace.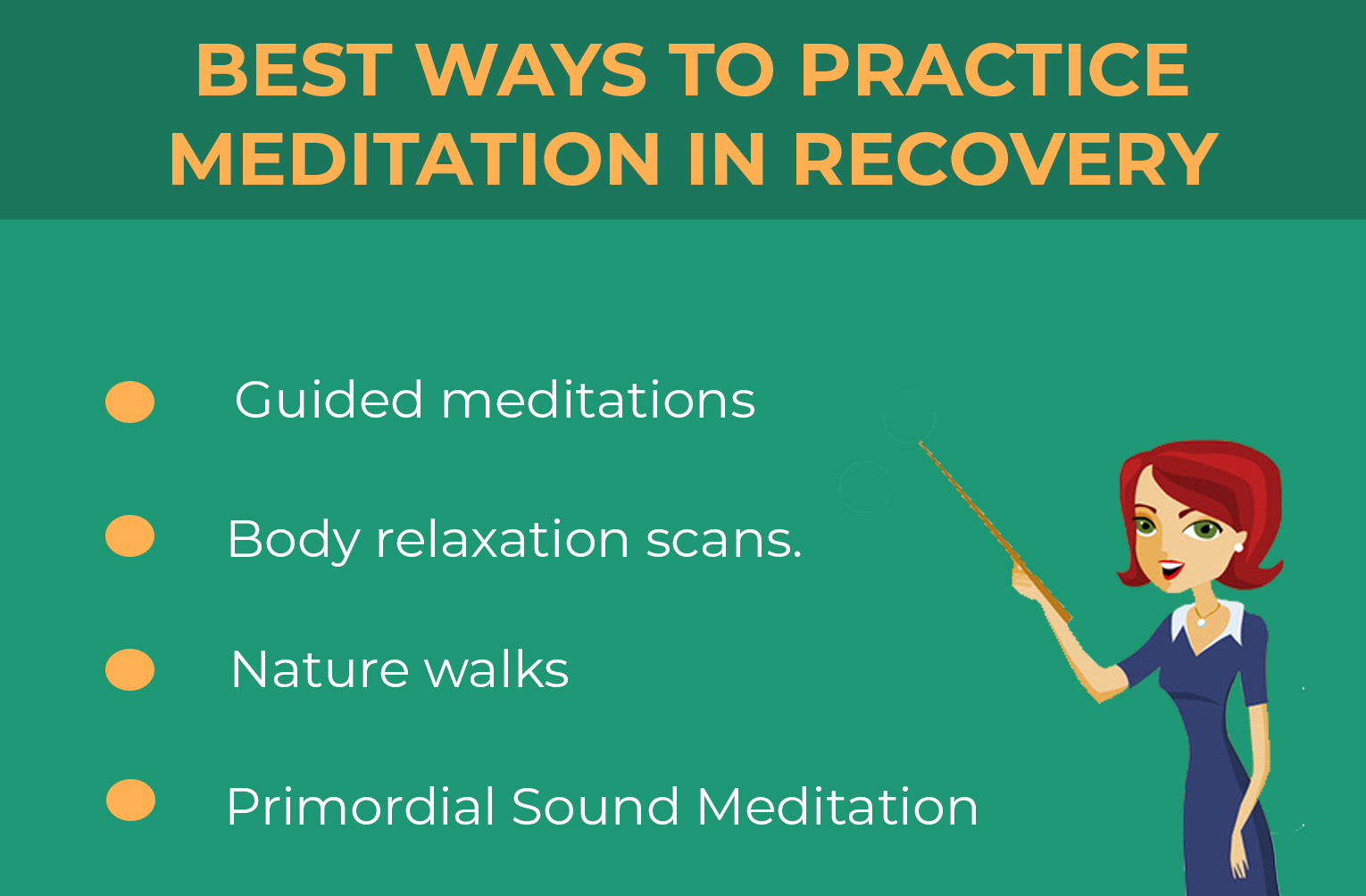 Here are a few forms of meditation to choose from:
Guided meditations.
These guided meditations were often taught in yoga classes while taking a rest after your asanas by your therapist. They will ask you to keep your eyes open and try to concentrate on a single object, that can be anything a light, a flame or an image. Many guided meditations are available online, you can listen to them and follow it. Thereby you can visualize positive outcomes in your life. It makes you feel so relaxed and helps you to get rid of all kinds of stress.
Body relaxation scans.
These scans can help you to motivate self-awareness and keeps your body calm. It improves peace in your mind and body and helps you to be a healthier person, recovered from addiction.
Nature walks.
Walking is good exercise, that will be helpful to focus on a single thing. It solely connects your body and mind, makes yourself so relaxing along with the beautiful scenic nature around you. Early morning nature walks are the best to explore the environmental beauty and that is also a kind of meditation too.
Primordial Sound Meditation.
Another form of meditation, in which everyone is asked to sit in a room and loud music or chanting mantras.
The reason why meditation is the most powerful tool to recovery from addiction is, it diverts people's minds to detach from the old thoughts and gives them a good feel and nurtures their mind with positive vibes. At first you may feel difficulty in practicing it, but later on, it will become easier to be a part of your daily routine.
Staying Calm and sitting in a place would be so difficult for those who initially start their addiction treatment. It's better to start your meditation practice with movements, such as a walking meditation, or even yoga, which can be considered a moving meditation when you focus on the awareness of your breath as you move through the poses. Sobriety is on your way and it is sent in small packages through this meditation course access. Along with meditation eating, good food also plays a major role to get away from your bad pain and chronic diseases.
Bottom line:
You may often be in a confusion that how to help an addict or discover a way to help to recover from substance abuse?  No worries, meditation is a weapon to fight against the addiction that eliminates the harmful enemy from the patient body. You can practice meditation in your daily life that yields a better life which defeats effectively against addiction. The addiction treatment business is getting down acknowledging those meditation edges and incorporating them into the treatment of medicine and alcohol.
You can also use our addiction aide website to contact the listed drug or alcohol treatment centers for the speedy recovery that provide compulsive meditation therapy with new techniques that workout individually for all the addicts. We have a list of different kinds of treatment centers in our website, you can pick them according to nearest, affordability and the types of treatment you wish to take to make you a whole person, by taking up all the negative vibes from both your body and mind.