2019 New Year Resolution: 7 Steps to Addiction Recovery for Your Loved One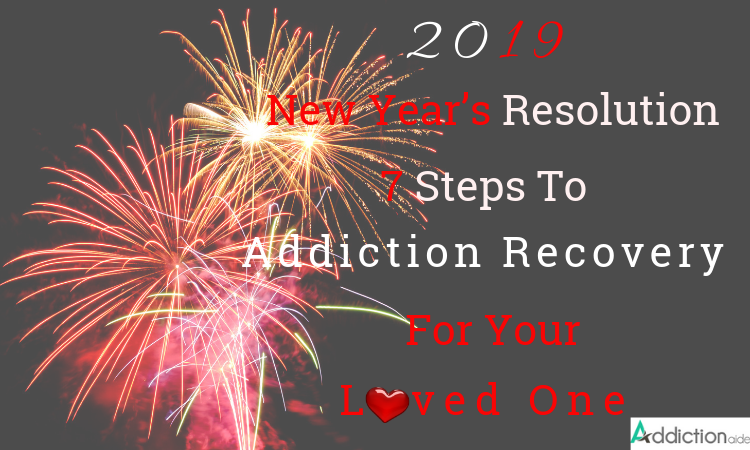 Maybe you plan to revolve in 2019 with a new resolution to quit an addiction is, more than stopping the act of smoking, drinking, or using drugs. We also need to improve a lifestyle and atmosphere around the change we want to make. ​When your life is shaped around addiction rehabilitation instead of alcohol, tobacco, or drugs, it's much difficult to relapse. Drug and alcohol dependence healing happen through a series of positive moves, including addiction recovery treatment. When various, minute changes accumulate, rehabilitation can be accomplished over time. That's why these small, effective New Year's Resolutions may help you take a step towards addiction rehabilitation.
"It's not about perfect. it's about effort. And when you bring that effort every single day, that's where changes happen. That's how transformation occurs". Here are seven tips to help you create long-lasting change and spend this New Year's Eve sober with your loved ones.
Step 1: Resolve to stay positive
Sometimes even medicine and healthcare are not sufficient for full rehabilitation. It's easy to become negative and frustrated with loved ones who are trying to encourage you especially for victims who are struggling with illness, drugs or drinking problem which deals with a major life change. These positive thinking can mean all the difference.
Here are some positive thinking ideas to help to change your negative or angry thoughts into a happier and more fruitful positive outlook.
Use positive words when talking

Believe in yourself that you will succeed

Use words that evoke strength and victory

Learn from the past

Come up with ideas of how to transform negative thoughts into positive ones
Step 2:

Resolve to a new try 12-Step or AA Meeting

 
If you regularly attend the 12-Step or AA meetings, you will succeed with a new life or resolve to add one more 12-Step meeting to your weekly or monthly schedule.12-Step program is a set of guiding principles outlining a course of action for rehabilitation from addiction or other behavioral issues. Likely, Alcoholics Anonymous (referred to as AA) is the most widely known program related to overwhelming addiction or chemical dependency.
If you have completed your steps in drug and alcohol treatment centers, go back over the meetings that were challenging to complete and rework them or develop them to the comprehensive extent.
Step 3: Resolve to take accountability for your own actions and intentions
Now it's time to stop blaming others. While this resolution may not be signifying up for addiction recovery. But, it's the initial stage you must be willing to take. Make yourself responsible through a written or verbal promise to people you don't want to let down. That will support you to perform through tough spots. Accept your own problem, and try to solve the problem on your own by motivating yourself, control your actions and intentions individually, make sure whatever that every good or bad decision you make is a result of your individual doing, not someone else's.
Step 4: Resolve to spend special time with the positive people in your life
Positive peoples in your life will always love, care you and only thinks about your happiness. Even the positive peoples can only fill you with tension and make you unhealthy. Peoples will come and go in your life. But, people you spend the most time get hands on over a lifetime, and the problem of circling yourself with an unhealthy relationship can be a dangerous one the characteristics and perspectives of the people you spend the most time with can affect your mood, motivation, and morals. If you find that you are often pulled down by negativity, it may be time to end up your surroundings and spend more time with people who have a more positive outlook on life.
Step 5: Resolve to Write it down:
If you have never kept a New Year's Resolution, it's not because you lack willpower or resolutions don't work. It's because you don't know how to write resolutions you'll actually keep. Writing is an art, write down what you need to end and what you need to start to reach your aims. Writing down your intentions and ideas increase your responsibility. When you write effective resolutions that will get you inspired for a fresh start and keep you motivated all year long as you tackle them.
Step 6: Resolve to read inspirational books:
Even if you've read one good book in your lifetime, you will know what reading gives. It gives you incomparable pleasure, improves your knowledge, memory, imagination, writing skills, communication skills, focus and concentration and finally, reduces anxiety and depression. If you love reading, this New Year's resolution is perfect for you. Over the next year or whatever time period, you feel comfortable with choosing an inspirational novel to read. Here are a few books.
Awakening The Brain: Written by Charlotte A. Tomaino

Awakening Joy: Written by James Baraz

Drink. year: Written by Ann Dowsett Johnston

The Courage to Be Yourself: Written by Sue Patton Thoele

This Naked Mind: Control Alcohol: Written by Annie Grace
Step 7: Resolve to give thanks for what you do:
Every morning or each night, spend a time to write down one thing you are thankful for. It can be a feeling, a person, an opportunity, a material possession,  a place – anything. Gratitude, grateful thoughts and kindness should be our pillars of strength. Let's keep out dark and let in light. Throw out the negatives and dump them into the dustbin.
Bottom line
Before you consume alcohol, take a drag off a cigarette, or taking a drug, evoke yourself why you quit in the first initial stage. ​Possibilities are good that you had an outstanding reason to quit. But as time passes, it becomes easier to forget the reasons you quit your addiction. You must keep in mind that as an addict, your body has an unmanageable physiological response to addiction. So, you need to be reminded of the pain, anxiety, and loneliness you felt when you first got sober.